For starters, I don't recommend most of the companies that bill themselves as SEO host.
And you should right most of them off as well.
Why?
Well because it's an easy trace to track down the allocated IP addresses.
So, that leaves you with really a couple of options.
Option # 1 – Create hosting accounts across a ton of different providers.
This is probably the safest way possible and if you're building out a massive network and already making money from your Private Blog Network, then this is for you.
You can pick from several different "cheap" hosting providers…
And stack the hosting providers with different niches or markets.
In other words, DO NOT and I repeat DO NOT use the same niche on your shared host.
The problem with this method is it's very time consuming and a pain in the ass to keep up with the host.
See, a lot of these cheap hosting providers will go down and it's a major hassle to keep up with everything.
However, if you're already seeing the positive aspects from having a PBN, then it's part of the game.
Either you or have your VA to track the sites that are up and down with a tool that will send you out alerts for when your site may go down.
INSERT LINK TO TOOL
If you go down this road, then do a search for cheap hosting providers or hosting coupon codes and you'll be surprised because you can find some really inexpensive hosting options.
None will beat my next option
Option # 2 – Use a Hostnine Reseller program
If you're just starting out, running a big or small network, you'll be able to benefit from Hostnine.
Here's why this is the best SEO solution for running a PBN…
When you buy a reseller account, you're able to pick your server location as shown below –
Every time that you add a new domain, pick a different server location and now you're hosting on a different IP address 🙂
This allows you to start your PBN with 19 domains for only $19 per month.
And for the money you can beat it.
Plus you can see that you can upgrade packages as your needs change-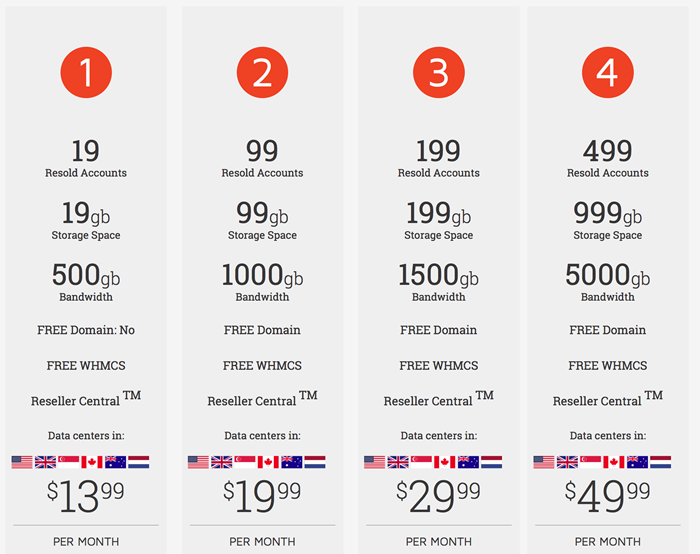 Please see my Hostnine Review and if you pick up a hosting package from my affiliate link, I'll send you my PBN Domain Checksheet as a bonus.
This will help you to see what criteria we're looking for and how to avoid pitfalls.
Just forward your receipt to support at shoalsmarketing.com
After you've bought your domains and setup your hosting, you'll need to decide how you're going to get your links plugged into your website.
The first option is to just rebuild the site from the Way Back Machine and once you rebuild it, just insert your link into the html.
Or you can just set it up on WordPress to start dripping out post.
In some instances, I'll rebuild, then will create a WordPress install in the directory "Blog" to allow posting to my sites more convenient.
The downside to option # 1 is having to manually add the links.
I'm not a coder, so it takes me a lot longer to dig into the code and place my links.
Personally, I'd prefer to be able to create a post and shoot it out to my PBN using a software.
That's where I'm going to make a shameless plug for Rank Gold – it's easier and I can track it better because it's a software that's managing the posting for me instead of me having to keep track of everything with spreadsheets or manually creating the post.
RankGold is a web based PBN software that I had developed to allow posting to your PBN a breeze.
There's nothing like it on the market and has more than just PBN capability :).
This will allow you to create schedules of your posting, allows spun content, will allow exporting of your own links, plus allows you to post to several web 2.0 sites as well.
If you sign up for the yearly account for Rank Gold Extreme, I'll even add some of my own sites for you to post to and I'll include my Black Ops Elite 6 week training (a $3500 Value) on the house.
All you've got to do is go here, then order the extreme package and I'll get you setup.
Just forward your receipt to support at shoalsmarketing.com
I look forward to hearing your success from running your own PBN 🙂