Let me start off by saying that Youtube has been great for myself and made me a lot of money..
And as we all know – video is bigger now than it ever has been – but what exactly can you do to start making money from your Youtube marketing step by step of the way?
And what if you're just starting out on a shoestring budget?
That's why I wrote this guide.  
This will give you the fundamentals even you're just starting out with no clue where to start…
Why Youtube?
Video is great for a being able to really connect with your audience, but your focus should be on Youtube more than any other video outlet.
Here's why…
You can build an audience from Youtube Traffic alone.
Youtube is free to setup an account
This Gives you another traffic source / channel to communicate your message
The videos rank really well in Google allowing

you to get even more traffic

– after all they are owned by Google.
Youtube is the 3rd biggest site in the world only behind Google and Facebook
So, can we agree – Youtube is legit and should be on your radar for tapping as a traffic source?
Now, lets dig in and roll up our sleeves a bit…
What Niche / Market Should I go After?
This may sound very basic but it's incredibly important to master this at the beginning because if you go after the wrong market – you'll end up frustrated and feeling like you've just been beat up by a girl on the playground 😉
Ask me how I know this…
For starters, it's better to go after something you're remotely passionate about. 
It's much easier to begin and create content vs. going into a market you have no clue what your doing and relying on yourself to do the research or depending on someone else.
And by being more passionate about the topic – you're more inclined to stick with it for the long haul because you like it and enjoy it.
Here's what do…
First, take a list of all your hobbies, interest, and products you've recently bought.
These will be a good idea bank to start off with.
So, for example, right now I'm spending a lot of time and money with my dog Vedder.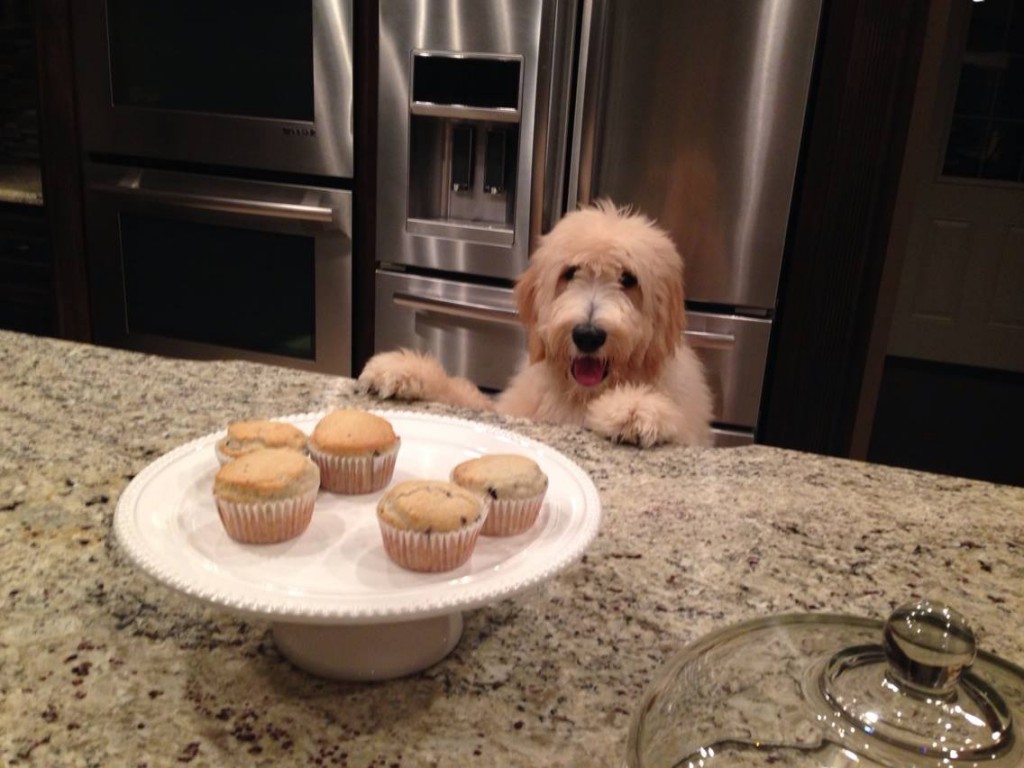 We're working on training him at home and my wife is actually going as far as cooking homemade dog treats.
Next, since last October I've been training 5-6 days a week getting in shape and eating cleaner.
I've dropped a little over 2" in my waist since last October and dropped about 12 lbs since last summer.
And finally, my recent products I've bought have been marketing products, trainings, aged domains and I still dabble in Real Estate.
So, now you know from the 3 areas I just listed (hobbies, interest and products recently bought) – I would begin looking at the following niches –
dog training

Golden Doodles
Fitness / Health
Marketing
SEO
Real Estate Investing
 Wait – I'm Not an Expert At Anything!
This thinking robs so many people from living…
Recently, my good buddy told me last week that he'd love to start doing something like this but didn't think he was the expert in anything… 
(We're such good friends that I know where his time goes so I thought I'd make a list for him based on what I've seen…)
These would be a quick list to start with just to get the ideas rolling.
Next, I'd then start doing my competitive analysis and researching keywords in these markets to come up with ideas and topics that you could create videos for…
Now, granted you may not be a huge guy that's ready to grace the covers of Muscle and Fitness, but you could sculpt out an audience within a niche and create a following based on what you're doing.
A quick example of the top of my head may be something like "How to Stay in Shape with your kids" or "How to get fit after pregnancy", "Fitness tips for the busy executive", or "How to Profit from Selling on Amazon"…
You get the picture here…
Bottom line is – you can bring something to the table and it might as well be YOU…
And, if you're passionate about your topic – it's much easier to start and stay focused.
That's why I'm able to write this guide right now –
I love talking about this and testing new ideas out. 
If you still have problems coming up with ideas – think about this – what would you do regardless if you got paid for it or not?
Next, it's important to know the landscape.
What do you see on the First Page Of Google?
This is by far one of the most important factors I can show you when it comes to ranking and getting traffic.
See, Google is giving us hints as to what they're looking for. 
The goal is to give the user what they may be searching for.
If you see at the top of the page these links will interchange based on the searches.
Sometimes, you'll see it looks like this.

While other times it may look like this:

See it mixes up based on the search.
So- if you see Videos already displaying, this is a good indicator that Google feels the user would benefit from video.
There are some searches that would never rank with a video no matter how good at SEO you may be.
So it's important to look at the landscape, see the competition and make a decision.
Realize, there's still traffic in Youtube even if it doesn't rank in Google (which is pretty cool too).
Who's Ready for Keyword Research?
Next, we go to the keyword planner tool to dig a little deeper for more keyword ideas on what we can approach.
If you're just starting out – be sure that you're not going after something too difficult.
Early on, I thought I could go after terms like Real Estate with no real experience and rank in 3 hours –
It's just not realistic.
Plus, it's harder to monetize such a general term anyway.
Read that again if you have to – it's that important!
Instead go after more specific terms that may be less competitive.
For example, I love targeting product names.
And the reason is two fold.
First – these keywords are more targeted which means the user has already been exposed to the term and maybe just looking for more information.
These are what we consider "buyer keywords".
And secondly – they're easier to rank for and get traffic to.
So, let's say you buy a product around something you're passionate about…
I've done numerous ones in the Internet Marketing space as well as Real Estate space that you've probably seen.
It's very easy to create a simple review video for the product by simply demoing the product.
For example, it's easier to rank and monetize the term Venus Factor Review (one of the top Clickbank diet info products) vs Loose Weight.
A trend that's wildly popular now is unboxing videos..
There's a large number of videos where people are getting traffic from just unboxing different products.
Don't believe me?
Take a look at the screenshot below at the views of some of these videos..
And when you get done from reading this and after you share it with all of your friends, go to Youtube and search for unboxing and take a look at the number of videos but also pay attention to the number of views…
You'll be surprised.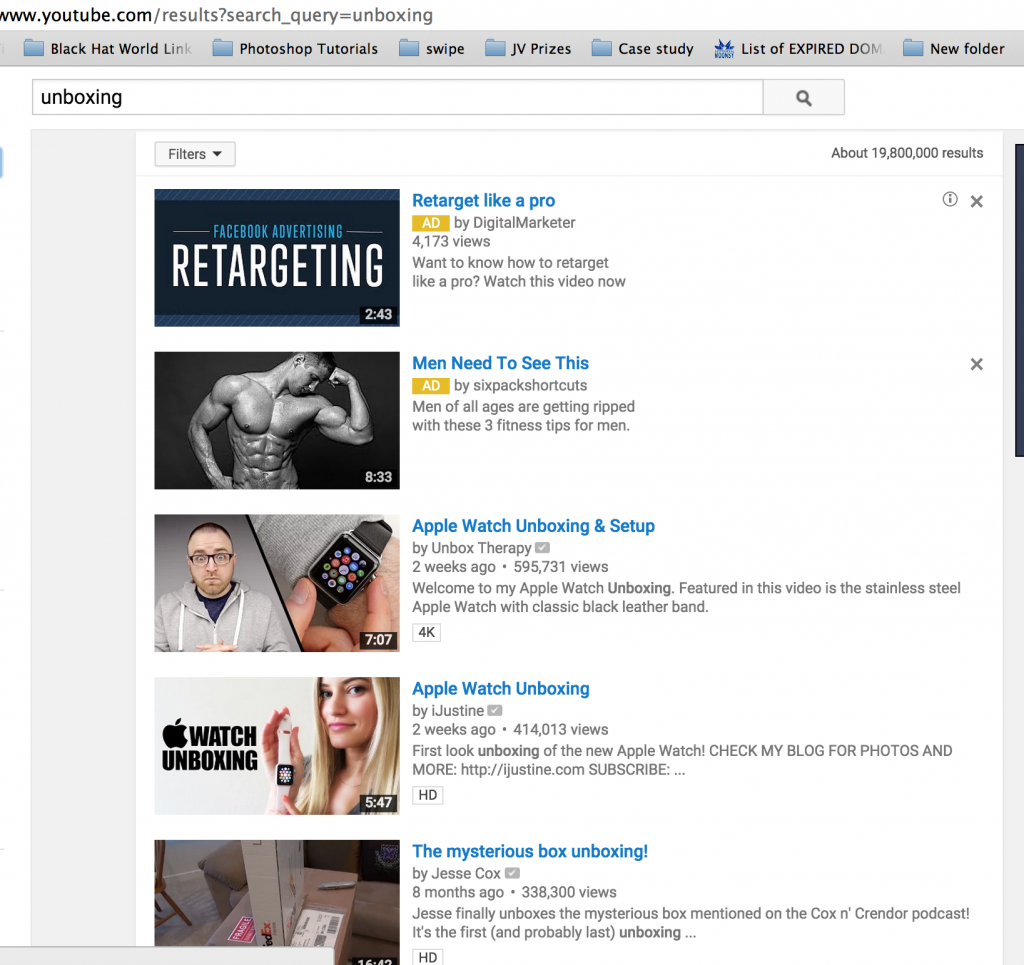 Once you've got your list down of what you're targeting, lets move on to the next step…
Creating the Video
Currently video creation softwares are the among the top sellers in the internet marketing space.
Take a look at the top 2-3 products in JVzoo.
These are all related to video and video creation.
While, I agree it's good to have a professional video – I feel too much is being made of it.
A few months ago, my neighbor told me to connect with a guy locally about what I do.
They "thought" we did the same thing.
The guy would come into their restaurant to use their wifi.
Even though I resisted, they persisted and connected us.
So we met via Facebook instant message and…
I started by asking him what his goals were and what he was working on.
He wanted me to email a video that he'd spent over a grand on and over 6 months to create with no real benefit to my readers.
The video was something to do with the problems surrounding Internet Marketing – yet he still had a full time job.
Even though I never figured out what the real goal was or what his method to monetize the video was – I couldn't figure out why in the world he'd spent a grande and over 6 months to create a video…
Who Does that?
The fact is a lot of people.
Take a look at the Yellow Pages.
Businesses spend thousands of dollars on fancy, super polished videos that get little to no traffic.
And in the end, leave them only frustrated and wondering what went wrong…
I'll touch more on this a little later…
Realize that your fancy video will never do anything if you're not getting traffic.
So, focus first on learning the process to rank videos and getting traffic to it.
You can always step up your game with more polished videos.
Instead focus on being yourself and pumping out the videos. 
Let your own character shine through the videos so your viewers can know, like and trust you.
People aren't entertained by a perfectly polished video, more are drawn and respond more to real videos that are raw, that have emotion and passion about whatever it is your talking about.
Some will love you, some will hate you.
But all that matters is if they're watching…
What Should You Use For Video Recording Equipment?
As far as video software goes, you'll need one of the following – Camtasia or Screenflow to record your screen.
I have both for screen recordings and use a c920 High Def Webcam if I'm going to appear on camera with the screen capture. 
For my microphone, I use a Blue Yeti.
And I use the Iphone for many of my other videos with a lavelier mic.
For Skype recording which is good for a talking heads type video if you're planning to interview someone, I use Call Recorder.
It's a Paid Add-on that works really well.
But do not put too much emphasis on this – it's a waste.
Pop open your iphone or flip camera and just get started.
You're goal is to knock out videos in mass, as fast as possible.
I see a lot of people wasting time trying to prepare to make the perfect video.
They'll write out a script, buy expensive cameras, lightning, and props.
Don't do that.
You can always perfect it later on – the best thing you can do right now is just get started.
Stop worrying about perfection and focus on getting your videos complete.
To this day, I still do the simple ghetto videos with nothing more than a powerpoint that's recorded with Camtasia.
It works and can start getting you and your clients traffic quickly…
Creating Videos On a Shoestring Budget
This is the down and dirty method that works and lets you get videos cranked out at record speeds.
This involves using Google Hangouts.
You can record your screen, your talking heads videos, or record a simple powerpoint screen.
These can be done super fast and costs you nothing without using any software.
No software or anything like that.
Just create an account, fire it up and go. 
Plus, Google seems to give a little more love to Hangouts in the search results.
So far, we've discussed creating videos around your passion and making money mostly from building an audience and affiliate marketing but there's also another way you can profit from Youtube and that's using it for local businesses.
See, most local business owners have no clue how to rank a video. 
Nor do they want to know either.
They're worried about making sure Sandy shows up on time, and inventory is stocked.
No time to learn something new.
You can take the information I've given you in this guide to rank their videos, get them more traffic, and more customers.
If you look at the Yellow Pages Youtube channel, you'll see all of these super polished videos with no views.
Guess what?
These are your ideal customers.
More than likely they've spent several thousand dollars for a Yellow Page ad, a video and are getting nothing in return but a handful of views.
If you can produce rankings and traffic – they'll think you're the Top Dog…
And once you do that, you can begin to start selling them on other services – SEO to their main site, Social Media, Brand Management, and even email marketing services.
Creating Your Script
Personally, I always like to work off a script or at least a basic outline. 
It makes the videos run so much smoother and goes a lot quicker when I do.
If I'm doing demo of a software or service, I'll write out just a few bullet points of the high points that I want to hit.
Again, this doesn't have to be perfect, but I find it flows easier when I have an outline to run with.
The old marketing term is AIDA
Attention

Interest
Desire
Action
That's all you need to know and keep that in mind.
Begin with a pattern interrupt to command attention.
A Pattern Interrupt is nothing more than something they don't expect to see.
Something that's unique – it can be something that you say like a bold claim, it can be your clothes, or your surroundings.
It has to be something that stands out and speaks directly to them.
This is the most important element of the AIDA formula because you only have a small window to grab their attention. 
There are a million distractions going on while they're trying to watch your video.
So make it remotely entertaining with a clear benefit.
And make sure to mention your keywords in your video – the sooner the better as youtube has a speech to text conversion that's going on behind the scenes once you upload your video.
And end with a strong call to action – whether it's something free, a timed offer or a bonus.
Setting Up Your Youtube On Page Optimization
For this section we have two things we're trying to do.
First, we want to rank and get traffic for the terms we decided we'd go after and
Secondly, we want to convert our visitor.
This could be getting them to an affiliate offer, making a phone call, or signing up as a subscriber to the channel.
So, it boils down to Traffic and Conversions.
Our title should be something that includes our keywords but would also intrigue the visitor to click on our link if you see it in the search results.
So for example, let's say I'm going after a new product that's making headways called the ButtBlaster 3000
(If someone creates this product – be sure to give me credit for the clever name :))
My titled would look something like this
Uncensored ButtBlaster 3000 Review + $3000 Bonus Package or
Complete ButtBlaster Review- Does it Really Work?
In these titles, I'm targeting the following
The Product Name,

the Product name and review,

And product name plus bonus.
If we're doing ranking a local term, we'd include the company name in the title along with the keyword.
Company Name + Keyword
Next, we've got the description that we need to write out.
For this, the more content the better. 
I like to include a 400-500 word article in this section that's enticing and will make the visitor want more info.
And include my link at the beginning.
Also, I'll stuff 3-4 keywords at the bottom of the Youtube description.
And now we're ready to write out our tags.
So, what I want you to do now is go into Google Chrome or Firefox and search for your keyword.
Find the video ranking in the search results whether its in Google, Google Videos or Youtube.
Click to open the developer view and search for the word "keywords" in the source code…
Here you'll find all of the tags that your competitors are using with their Youtube video.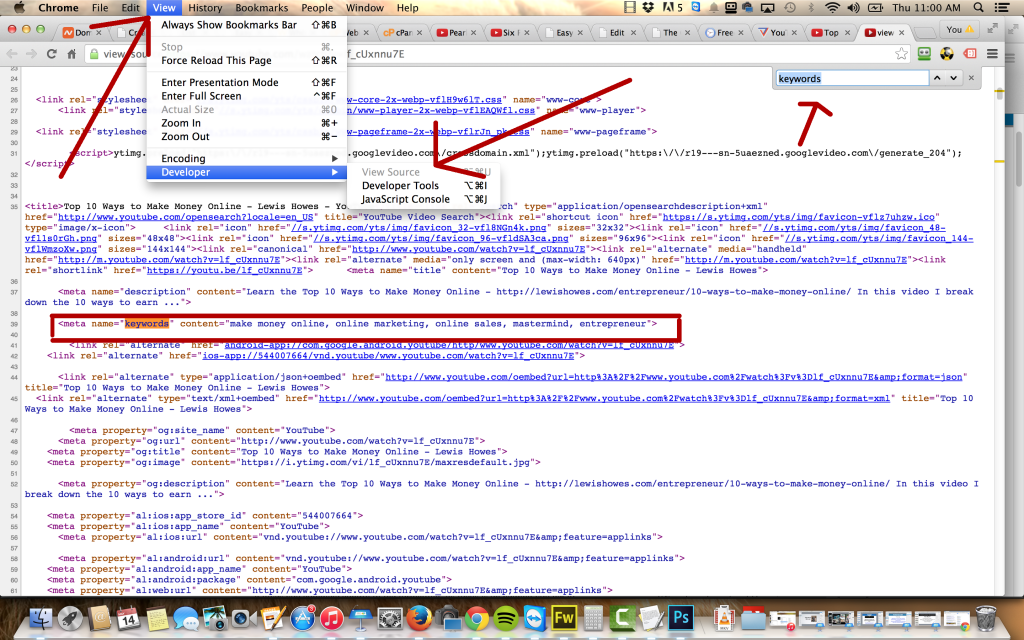 See, there's no since in re-inventing the wheel here, so we're going to swipe their exact keywords.
Now take those keywords and use those as your "tags".
And finally, I'm going to show you something that most overlook when it comes to marketing on Youtube.
Most rely on their user to find the link in the description, click on it to your offer.
This doesn't cut it.
You've got to be more visible than that.
Remember, your battling distractions from crazy cat videos and Kate Upton…
Your viewer needs to be led to where you want them.
Maybe it's an optin for your free offer or a bonus item for an affiliate offer.
Regardless, you've got to grab their attention and a small link in the description isn't going to do it.
You've got to be big and bold.
Reach out and grab their attention.
The way you do that is with Youtube Cards.
Before Youtube Cards, we used annotations.
It looks like a simple popup, once clicked the viewer is then redirected to a page from the associated website you've got setup, another video, or playlist.
There are actually 6 types of Cards –
Merchandise

Fundraising

Video

Playlist

Associated Website

Fan Funding.
And Youtube Cards work on mobile devices which is where annotations fell short.
That's important because recently Google confirmed that there's more search on mobile devices than on desktops.
So, think of Cards as being Annotations 2.0.
Now, the reason this is important is because you want to give direction on where they should go next… 
If you're not worried about building an audience in Youtube and just looking to siphon traffic from Youtube, then your goal is to get them moved from Youtube as soon as possible and onto your own property.
Youtube Cards are super simple to create.  Take a look at the screenshot to see where to find in your account –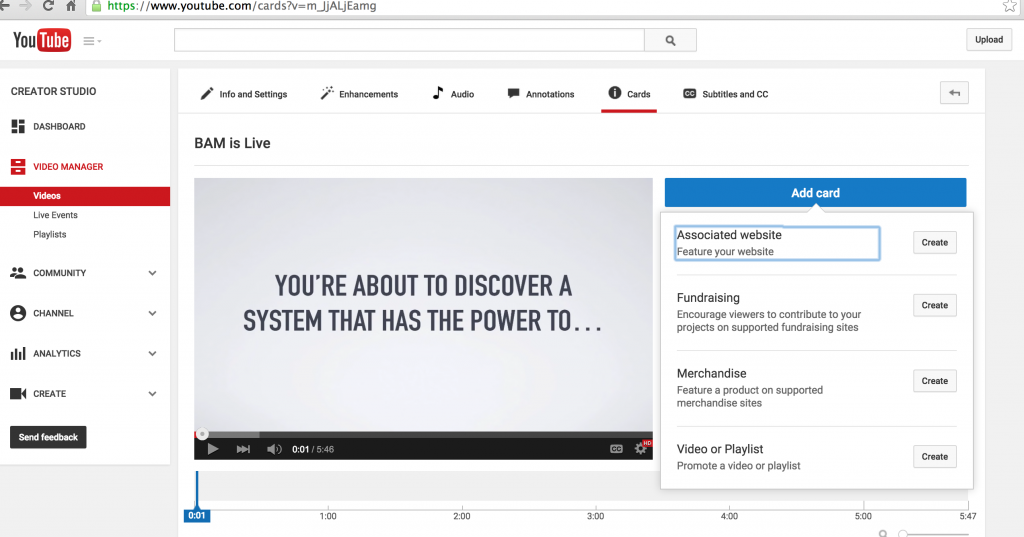 Setting Up Your Channel Home Page
Also, on your channel home page, you'll want to arrange your header graphic and links to your site to direct them to your money site. 
The reason is because you'll want to maximize every opportunity Youtube is giving you.
Remember, the more videos you produce – the more authoritative your channel becomes the easier it is to get traffic and rank.
Ranking with Off Page Optimization
Now, if you're targeting longer tail keywords, you may see your video to rank as soon as it's published but for tougher keywords, you're never going to rank and get traffic from just putting out a video.
You've got to fuel those bitches up.
Notice, at this point, I turn up the energy in the blog post by including the "b" word.
If you want to add more emphasis or pack more energy into your statement or presenations – just end every phrase with the word bitches – it works wonders…
Before we dig in here, I'm going to caution you to not be like the majority of others – most people stop before this step.
They're scared to backlink because of fear of losing something.
Stop it.
Don't be scared.
Here's why…
You can't lose something you don't have.
And you're never going to get there without pushing the boundaries a bit.
Our goal after all is to rank in Google, Google Videos, and Youtube.
Take a look at the videos ranking in your niche and see what they're doing with their backlinking.
You can do this with Open Site Explorer or Ahrefs and can see exactly what they're doing.
Chances are good that they're backlinking and embedding the hell out of the video if it's remotely competitive.
Your Youtube Ranking Formula
Hangout + Backlinks + Embeds
Backlinks are still the primary driver behind getting top Google rankings for websites as well as video.
For me personally, I like to mix up the platforms that I'm getting links from to make it look the most natural.
So, you'll see I'll have links from blog sites, forums, as well as bookmarks.
Embeds are equally important.
Embeds are when you share your video by posting to your blog. 
Instead of just posting a link, you're actually grabbing the embed code as shown in the pic below.

Google and Youtube take this into account when ranking your videos because it's an indication of how popular the video is.
Plain and simple – if the video is good for the user, then it's going to be linked to as well as shared across the web.
Embeds can be done across your blog, social networks like twitter, your private blog network if you have one as well as many web 2.0 blogging platforms.
Once you start linking and embedding these videos, you'll start to see magic happen.
What About My Anchor Text?
The anchor text is what your linking to your Youtube video with.
Be sure to mix them up and don't hammer it with the exact keyword for all your links.
Be sure to include some naked urls, brandable names, and generic anchors in addition to your keywords and you should do just fine.
Wrapping Up…
Here's the deal…
None of this information is worth a damn if you don't put it to use.
Since, there's several pieces, you'll benefit more by compartmentalizing everything you do.
So, for example, maybe Monday is your video creation day.
Complete everything related to video creation on this one day.
Tuesday could be your writing and uploading day.
And Wednesday could be your day to setup your backlinking campaigns.
Now, if you've enjoyed this, spread the word by giving a share or a like. 
Also, would love to hear your comments below and any success you've seen with your own Youtube Marketing…